http://www.irishmirror.ie/showbiz/irish-showbiz/shane-filans-fury-debut-single-2041388
Shane Filan's fury as debut single leaked online
10 Jul 2013 14:30
Westlife star's first solo song found on illegal sharing sites
Singer Shane Filan has been left fuming after his first solo single was leaked online.
The ex-Westlife star was disgusted after discovering Everything To Me was available to watch and download online – a week ahead of its planned unveiling.
The Sligo singer, 33, discovered on Monday evening the track was on illegal music websites and blogs and was viewable on video sites including YouTube.
His management were on Tuesday believed to be working on finding out who leaked the song – which isn't on sale until August 23.
A source said: "This is a huge blow to Shane's career, everything had been planned out to the day and this has completely wrecked it.
"Shane will be raging that this has happened. He was so delighted with the single and wanted to be the person who introduced it to the world.
"There will be a hunt to try and figure out how it happened. Seeing the song appear on video sites and blogs for download more than a month before its sale is everything the label didn't want."
The crooner, who is managed by X Factor judge Louis Walsh, was planning to personally hand over the first copy to Ryan Tubridy to play on his 2fm show this Friday.
But last night, bosses at his label Capital Records were forced to rip up their plans and put the song online through his site more than a day after the leaking.
A source said: "When something like this happen labels have to change everything. But it's an utter mess.
"It would have been a massive event handing the single over to Tubs, now it's worth so much less if everyone will have already heard the song."
Fans have been consoling Shane on Twitter over the ordeal.
One said: "I hope the stupid idiots that leaked it haven't spoilt it for you!"
Another added: "Feel so sorry for Shane that his single leaked! Why ruin this moment for him?"
And Shane's wife Gillian – who helped him through his recent bankruptcy – also thanked his fans for staying away from the temptation to watch it earlier.
She said: "Thank you to everyone who didn't watch the video or listen to the song. He's been so excited and waiting patiently to play it for you himself."
http://www.independent.ie/woman/celeb-news/nicky-byrne-and-georgina-ahern-bring-twins-to-baby-scan-29450977.html
Nicky Byrne and Georgina Ahern bring twins to baby scan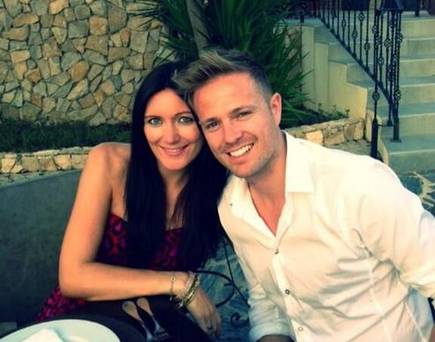 Nicky and Georgina took time out in Portugal before Nicky's The Hit TV debut.
DENISE CALNAN – 26 JULY 2013
The couple brought six-year-old twins Jay and Rocco to the prenatal scan, he has revealed.
But Nicky and Georgina don't want to know whether their twins will be celebrating the arrival of a little brother or sister and have decided not to find out the gender of the baby before the birth.
"We were wondering how we'd manage to find out the baby's gender without the two boys hearing," Nicky said, "but in the end we said we'd keep it a surprise for all of us."
Speaking on Today FM this morning, Nicky joked they will just have to paint the new baby's bedroom white or cream.
The couple are due their third child in late October and brought six-year-old twin sons Rocco and Jay to Georgina's last scan.
The former Westlife star has just returned from a summer break in Portugal with wife Georgina and is ready for his debut on RTÉ's new reality TV show, The Hit, tonight.
The show is set to kick off with contestants The Stunning and Julie Feeney.
"There are five weeks of rounds before the big final," Nicky said.
"It's a magnificent show where unknown Irish songwriters will be pitching their songs to artists. The race will be on for the artists to choose the song they think could become a hit."
Both songs chosen by the contestants will be released on iTunes straight after the show and their progress in the charts will be tracked before next week's round.
Whichever artist's song climbs higher in the Irish charts will make it through to the grand finale.
"It's set in the O2 and the place just looks amazing," Nicky said.
"Everybody's friends and family are there and the atmosphere is just electric."
The Hit, presented by Nicky Byrne and Aidan Power, kicks off tonight, Friday July 26, on RTÉ One at 9:35pm.