https://www.dailymail.co.uk/news/article-7904813/Prince-Harry-Meghan-Markle-HRH-titles-agreed-NOT-use-them.html
Prince Harry and Meghan Markle will KEEP their HRH titles but have 'agreed NOT to use them' after Megxit (but they are still using it on their website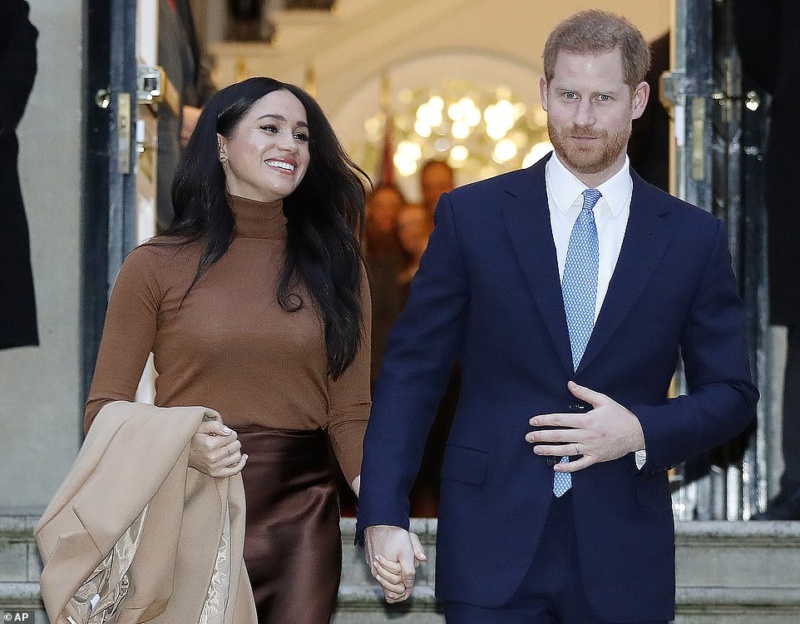 Prince Harry and Meghan Markle have been allowed to retain their HRH titles but agreed not to use them, Buckingham Palace confirmed to a furious backlash.
The couple will be known as Harry and Meghan, Duke and Duchess of Sussex in their new independent lives away from royal duties.
Last night's statement from the Queen said they will 'not use their HRH titles', which appeared to suggest sacrificing the three-letter prefix was the price of their newfound freedom.
But the Palace and Sussex households have now been accused of purposefully fudging the statement after it transpired Harry and Meghan have not been stripped of the title, but have just agreed not to deploy it
The historic deal, which was hammered out at Sandringham yesterday, also gives the couple licence to broker lucrative commercial deals, prompting concern they could row back on their pledge not to use the titles if doing so could bolster their brand and net them millions.
Commentator Carole Malone angrily tweeted: 'So Harry and Meghan haven't actually been stripped of their HRH title.
'They will keep HRH in name but will not use it. So how is that going to be monitored as they jet around the world making millions?'
Minutes after the Queen's announcement, a communiqué on the Sussexes website referred to the couple as 'Their Royal Highness', immediately sparking confusion.
But it is understood they will abandon using the title this spring when Harry and Meghan officially cut ties with the Family.
The move also will see Harry drop all of his official military positions and the couple will also spend the majority of their time in North America, a source told ITV.
The shock statement was announced by the Queen - but minutes later the couple sparked confusion when they updated their own website and signed off as 'Their Royal Highnesses'.
The announcement by Kensington Palace marks the conclusion of talks about their future after days of wrangling with senior members of the family and royal aides to thrash out a deal.
But Harry and Meghan, who sources say intend to spend 'the majority' of their time in North America, will pay a heavy financial and emotional cost.
As well as returning the £2.4 million spent on a lavish refurbishment of Frogmore Cottage, they will pay a commercial rent – estimated at up to £360,000 a year – to retain it as their British home.
Prince Charles will continue to 'offer private financial support' and, crucially, the couple will have free rein to negotiate lucrative commercial deals that experts believe could net them hundreds of millions of pounds, although they have pledged 'to uphold the values of Her Majesty'.
A number of unresolved issues remain, including whether Harry and Meghan will be required to strip the word 'Royal' from their SussexRoyal website, and who will pick up the multi-million pound bill for their continuing security requirements.
The Queen, who took control of the crisis that threatened to permanently damage the monarchy, praised Meghan for swiftly becoming a part of the family and thanked the couple for the work they had done, saying she was pleased they had found a constructive way to move forward.
In her statement, the Queen said: 'Following many months of conversations and more recent discussions, I am pleased that together we have found a constructive and supportive way forward for my grandson and his family.
'Harry, Meghan and Archie will always be much loved members of my family.
'I recognise the challenges they have experienced as a result of intense scrutiny over the last two years and support their wish for a more independent life.
'I want to thank them for all their dedicated work across this country, the Commonwealth and beyond, and am particularly proud of how Meghan has so quickly become one of the family.
Taxpayers look set to keep paying £7.6million-a-year security bill
It seems the taxpayer will continue to pay Prince Harry and Meghan's £7.6million-a-year security bill, even though the couple have dropped their HRH titles.
Meghan is whisked away by a police protection officer during a visit to Fiji in October 2018
Meghan is whisked away by a police protection officer during a visit to Fiji in October 2018
There has been a growing row about who will pick up the couple's annual security bill as they split their time between the UK and Canada.
And Buckingham Palace's bombshell announcement this evening didn't directly address the issue.
Now a security expert has warned it could cost as much as £7.6million annually.
Chris Matthews, formerly of the Royal Canadian Mounted Police and who worked in the protection of visitors to Canada such as the Royal Family, has estimated the security measures required for the Duke and Duchess of Sussex would be similar to those of the Prime Minister.
'It is my whole family's hope that today's agreement allows them to start building a happy and peaceful new life.'
A statement from Buckingham Palace read: 'The Duke and Duchess of Sussex are grateful to Her Majesty and the Royal Family for their ongoing support as they embark on the next chapter of their lives.
'As agreed in this new arrangement, they understand that they are required to step back from royal duties, including official military appointments.
'They will no longer receive public funds for royal duties. With the Queen's blessing, the Sussexes will continue to maintain their private patronages and associations.
'While they can no longer formally represent the Queen, the Sussexes have made clear that everything they do will continue to uphold the values of Her Majesty.
'The Sussexes will not use their HRH titles as they are no longer working members of the Royal Family. The Duke and Duchess of Sussex have shared their wish to repay Sovereign Grant expenditure for the refurbishment of Frogmore Cottage, which will remain their UK family home.
'Buckingham Palace does not comment on the details of security arrangements. There are well established independent processes to determine the need for publicly funded security.
'This new model will take effect in the Spring of 2020.'
All the new arrangements that are due to come into effect in the spring will be reviewed by Buckingham Palace in 12 months.
There was no immediate reaction from Prince William and Prince Charles to what has been dubbed a 'hard Megxit', which follows revelations that the couple were unhappy with life in the royal fishbowl.
The Duke and Duchess' new website sussexroyal.com has been updated following the Queen's statement, saying: 'In line with the statement by Her Majesty The Queen, information on the roles and work of The Duke and Duchess of Sussex will be updated on this website in due course.'
Their new titles mirror the styling given to Harry's mother Diana after her divorce when she was no longer allowed to use HRH. She was known as Diana, Princess of Wales.
The change means Harry, who served a decade in the British Army, will give up his military patronages and his role as Commonwealth Youth Ambassador, but will remain a prince and sixth in line to the British throne.
Harry, who has spoken fondly of his time in the Army, will lose several military roles including Captain General of the Royal Marines, Honorary Air Commandant of RAF Honington and Commodore-in-Chief of the Small Ships and Diving, Royal Naval Command. He will also no longer be a Commonwealth Youth Ambassador.
The couple will no longer use the titles His Royal Highness and Her Royal Highness, but they are not being stripped of them.