http://www.dailymail.co.uk/femail/article-4301032/Ronan-Keating-Jenny-Seagrove-Mother-s-son.html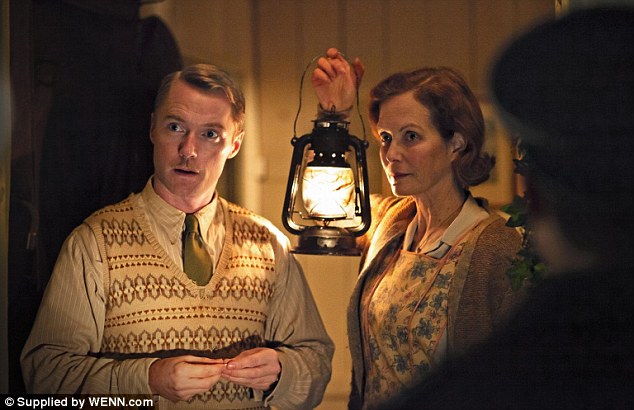 A mother's courage and the ultimate betrayal:
Ronan Keating and Jenny Seagrove play a real brother and sister who hid a PoW on Nazi-occupied Jersey
Ronan Keating and Jenny Seagrove star in Another Mother's Son
Ronan says filming was a harrowing experience that left him feeling negative
Another Mother's Son is released on Friday 24 March
By Liz Hoggard For Weekend
PUBLISHED: 22:31 GMT, 10 March 2017 | UPDATED: 22:31 GMT, 10 March 2017
At 59 Jenny Seagrove is still slender with cropped blonde hair and those piercing blue eyes.
But she seems to lack even basic vanity. After an early career spent playing willowy leading ladies, she takes delight in earthy character roles these days.
'I'm not interested in what I look like,' she tells me rather brusquely, 'I'm much more interested in what comes from inside.
Ronan Keating and Jenny Seagrove star as Harold and Louisa in Another Mother's Son
+3
Ronan Keating and Jenny Seagrove star as Harold and Louisa in Another Mother's Son
'It can be extremely painful as an older actress to see myself looking like I do on the screen, but it's absolutely right for the character.'
For her latest film Another Mother's Son, set in Nazi-occupied Jersey, she looks dowdy in apron and wellies, greying curls escaping her headscarf.
The film is based on the true story of Louisa Gould, a widow with two sons fighting for the Allies abroad, who kept an escaped Russian PoW hidden for two years during the war.
'Make-up wasn't on her radar at all,' says Seagrove. 'She's doing her allotment, she has the hens to look after, she's running the local shop. And anyway there's no man in her life, so why should she bother?'
Set between 1942 and 1944, the film depicts a harrowing period for the islanders. Cars were seized, curfews were imposed and Jews and British citizens who were not born on the island were deported to Germany.
Jersey became a prison island, where captured Russian PoWs were forced to work in labour camps. The cast includes Sherlock's Amanda Abbington as Louisa's sister Ivy, John Hannah as the postmaster and singer Ronan Keating, who gives an impressively low-key performance as Louisa's teacher brother Harold, in only his second movie role.
Jenny with Julian Kostov as Feodor, a young Russian PoW, who she takes in after he is beaten and branded by the Germans
Harold was the handsome blue-eyed boy, the youngest of eight brothers and sisters who was looked up to because he'd been to Britain to train as a teacher, and Ronan says it was the nature of the story that attracted him to the part.
'I've been offered other things and they haven't felt right, but this script is incredible. It's hard to believe what happened, and that it happened so close to home. It's fascinating.' Seagrove was impressed with him.
'He's wonderful,' she says. 'He's the nicest person as well, very grounded, a very generous man. I've got so much time for him.'
Produced by Seagrove's partner Bill Kenwright, Another Mother's Son was written by Jenny Lecoat, Louisa Gould's great-niece.
In the film Louisa takes in and hides a young Russian PoW called Feodor (played by Bulgarian actor Julian Kostov) who's been beaten and branded by the Germans, shortly after news that her son Edward had been killed when his Royal Navy ship was sunk.
She renames the Russian Bill and, despite her family's protests, vows to keep him alive, even if it puts her life at risk.
'Any mother would do the same,' insists Seagrove. Inevitably the community fractures under the pressures of hunger, occupation and divided loyalty, and some turn on Louisa.
At times her behaviour defies belief, such as when she takes Bill to church right in front of the Germans. Was she naive?
'She was intensely religious,' says Seagrove. 'She was patriotic and convinced that Churchill would come and rescue them. And most of all she lived in a little rural community where she was the hub.
'People came to her and depended on her. She was the local mother for everyone. So she was convinced that the community would be loyal, that nobody could possibly betray what she was doing. It's that goodness in her nature that's heartbreaking.'
One interesting facet of the film is seeing an intense relationship develop between an older woman and a younger man that isn't flirtatious.
'Feodor probably made her feel younger,' says Seagrove, 'but I think it's firmly bonded in a mother's love. Louisa loved him like a son. Where she went wrong was to flaunt it. But she genuinely thought, "Why would anyone in the community possibly snitch?" It was nice to have a handsome young man around though, it makes you feel alive.'
The film, which was shot in Somerset as Jersey is now too built-up to evoke the period, is full of colour and humour. At first it seems like a feelgood wartime drama in the mould of Land Girls or Yanks, but the mood turns when Louisa is betrayed.
Ronan says that filming was a harrowing experience that left him feeling negative at the end of filming each day
Ronan says that filming was a harrowing experience that left him feeling negative at the end of filming each day
She, Harold and Ivy are arrested, but not before Bill is taken to a safe house. In the final scenes we see Louisa and Harold being taken to the Ravensbruck and Bergen-Belsen concentration camps in Germany. Ivy faked ill health and was allowed to stay on Jersey.
To help with these scenes, Seagrove spoke to Holocaust survivor Ziggy Shipper. 'He said a few humbling things that helped me,' she says.
'He remembered being taken to Auschwitz at 14 and he said, "The thing I still have to deal with, to my shame, is that when we were on those journeys between camps, the trains were so crowded that you prayed for someone to die so you could sit down." It's the most shocking thing for a decent human being to say. It dehumanises you.'
For Ronan Keating, filming that fateful journey with Seagrove was harrowing. 'There were so many tears,' he says.
'I'd never known such negative energy as when I left the set after those scenes. I didn't know what to do with it. I felt angry, and it's the first time I've come across something like that. Maybe there are tools that actors have to get rid of that, but I didn't have them.'
Louisa died in the gas chamber at Ravensbruck, but Harold was the only British prisoner to survive Bergen-Belsen. After the war he gave evidence at the trial held by a military court in Luneburg, Germany, in September 1945 when Josef Kramer and 44 other camp guards were accused of war crimes.
'I did a lot of research on Harold, through photos and listening to his voice, because there are actually recordings of the evidence he gave,' Ronan explains.
Bill returned to Russia where he was initially shunned by the authorities, who saw PoWs as cowards.
But he went on to marry and lived a long, happy life. He never forgot the woman who saved him. In 1995 he attended the unveiling of a plaque on the side of Louisa's house, with her son Ralph, who survived the war.
Jenny Lecoat, Louisa's great-niece who was born on Jersey, calls her screenplay a 'love letter' to the island, telling a story of heroism and betrayal.
'There's still a great deal of sensitivity on the island about that period,' she says, 'particularly for older people who lived through it.' Many had no choice but to passively collaborate with the Germans. 'But there were many acts of secret resistance.'
Her own paternal grandfather was involved in making and hiding radio sets, and 'V' for Victory signs were painted all over the island. Like Louisa, other islanders took in Russian PoWs. It was a huge risk because anyone caught was arrested and deported. 'I've tried to recreate the sense of fear and paranoia,' says Lecoat.
No one knows who betrayed Louisa. It seems terribly shocking, but as Lecoat reminds us, 'You have to bear in mind at that stage that many people in Jersey were quite insular – this is an island measuring nine miles by five – and they would have had no idea about the concentration camps.'
Jenny Seagrove stresses it isn't for us to judge the locals who betrayed Louisa. 'If you were living on Jersey and it was taken over by the Nazis, what would you have done?' she says.
'Because if you put your hand up to the Germans and said, "Sorry mate, you shouldn't do that" you were off to the camps, gone. And your instinct is to survive, so you collaborate and there's a huge amount of guilt around that.'
For Seagrove, one of the pleasures of Another Mother's Son is that a fiftysomething woman gets to hold the screen. Does she believe things are changing for mature actresses?
'I hope so, please God. There does seem to be a little shift to more interesting roles, which is really exciting. But there's also a feeling that there's a market in the grey pound. The King's Speech really threw that out there. So bring it on,' she says with relish.
Another Mother's Son is released on Friday 24 March.
Read more: http://www.dailymail.co.uk/femail/article-4301032/Ronan-Keating-Jenny-Seagrove-Mother-s-son.html#ixzz4b0R2LrrY
Follow us: @MailOnline on Twitter | DailyMail on Facebook