http://www.leparisien.fr/laparisienne/familles-royales/en-direct-l-intronisation-de-felipe-le-nouveau-roi-d-espagne-18-06-2014-3933279.php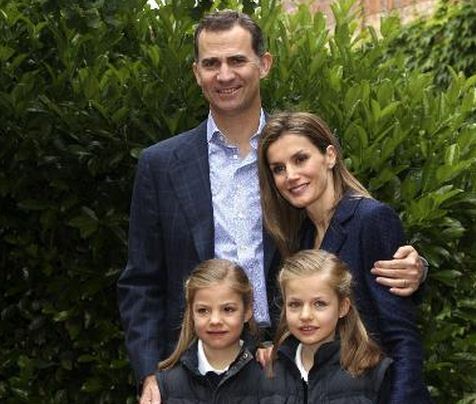 Hasard du calendrier,
Felipe VI de Bourbon
, est devenu à minuit le nouveau roi d'Espagne, une heure après l'élimination de l'équipe nationale de football, tenante du titre, du Mondial 2014 au Brésil.
A 46 ans, le jeune monarque a prêté serment à Madrid lors d'une sobre cérémonie, durant laquelle il a juré fidélité à la Constitution de 1978, le socle fondateur de la démocratie espagnole.
Felipe de Bourbon, un roi moderne et discret, il succède à son père Juan Carlos, qui a signé mercredi son abdication.
Son épouse, la princesse Letizia, ancienne présentatrice de journaux télévisés, devient par la même occasion reine d'Espagne.
Etudes à l'étranger, formation militaire : «Son objectif, son seul objectif, est de servir l'Espagne. Il lui a été inculqué, dans son for intérieur, qu'il doit en être le premier serviteur», a confié un jour sa mère, la reine Sofia.
Sa mission : assurer la continuité d'une monarchie parlementaire instaurée progressivement avec l'arrivée sur le trône en 1975 de Juan Carlos, héros de la transition démocratique à la mort du dictateur Francisco Franco. Une monarchie contestée selon les sondages, par un Espagnol sur deux, dans un pays miné par la crise économique et le chômage.
http://www.dailymail.co.uk/news/article-2662329/A-kiss-new-Queen-Spain-King-Felipe-takes-crown-tearful-Juan-Carlos-Letizia-worlds-glamorous-monarchs-wife.html
A kiss for the new Queen of Spain: King Felipe takes the crown from a tearful Juan Carlos... as wife Letizia becomes world's most glamorous monarch
Spain has sworn in a new king in a low-key ceremony that monarchists hope will usher in a new era of popularity for the troubled royal household.
Felipe VI has taken to the throne after his father Juan Carlos tearfully signed his abdication papers at midnight last night following a 36-year reign.
Determined to stay in line with the country's austerity measures, the new monarch, his wife Letizia and their two daughters are being ferried through Madrid in a low-key affair after a brief military parade to their first official engagement.
The ceremony, at Spain's lower house of parliament in Madrid, has little pomp and circumstance compared with royal handovers in other countries.
It is more of a legal process, attended by lawmakers, high-level politicians and some members of the royal family - including the new Queen Letizia, with no foreign leaders invited.
-
The event has been designed to chime with times of austerity, palace officials say, mindful that more than one in four Spanish workers is jobless despite an incipient economic recovery.
Hopes for the new king are high, and some believe that, despite his role being mainly symbolic as head of state, he will use his position to push dialogue over the challenge of a separatist movement in wealthy northeastern Catalonia.
'I am sure that our new king Felipe VI will be a king for hope and harmony, a king for freedom and equality among Spaniards,' Prime Minister Mariano Rajoy wrote in a column published in leading newspapers on Thursday.
Felipe, who is 46, will wear military uniform with a sash and swear loyalty to Spain's constitution before addressing the chamber. After the ceremony he will be driven through central Madrid with his wife, Queen Letizia, a former journalist.
'The new king is going to contribute his own personality and ideas and a lot of people hope he will bring change to Spain. I personally hope for greater unity,' said Alba, 20, who had gone to central Madrid with her mother and sister to catch a glimpse of the new king after his swearing-in.
Felipe's father, Juan Carlos, will not attend the event to allow the spotlight to rest fully on the new monarch, according to the palace.
The outgoing king and his wife, Queen Sofia, will also stay away from an afternoon reception at the Royal Palace with 2,000 guests from all walks of society.
Juan Carlos and Sofia will however greet crowds from a balcony at the Royal Palace alongside the new monarchs.
'Felipe is going to be a good king because that is what he was brought up to do by his parents. He doesn't turn away from problems,' said bystander Rosario, an 80-year-old pensioner.
Last night, Juan Carlos signed legislation, approved by Parliament earlier this month, setting out the legal framework for the handover.
The retiring monarch, who underwent a hip replacement operation last November, used a walking cane and moved with difficulty during the televised signing ceremony.
By royal standards, the ascension of King Felipe and his wife Queen Letizia was humble affair, with reception guests served hot and cold tapas-style nibbles, to be eaten while standing.
There was no champagne, just sparkling cava wine from Spain's Catalonia region.
The reasoning behind that choice is easy to understand, says Emilio de Diego Garcia, history professor at Madrid's Complutense University.
'In a time when every expense is examined with a magnifying glass, particularly public money, any ostentation would have been criticized' he said.
Prime Minister Mariano Rajoy immediately ratified the law, which went into force at midnight in Spain.
King-to-be Felipe has remained untouched by a royal corruption scandal, in which his brother-in-law is charged with embezzling millions of euros of public funds in a case that shocked ordinary Spaniards.
Juan Carlos also lost favour after going on a secret elephant hunting trip at the height of Spain's financial crisis in 2012.
While polls show the decision to hand over to Felipe has boosted the popularity of the royals, almost two thirds now also support the idea of a referendum on whether Spain should continue to be a constitutional monarchy, according to a recent poll by Metroscopia for El Pais newspaper.
Security forces are taking no chances and police have carried out house-to-house searches along the route King Felipe will be driven, with 7000 police and 120 snipers out on the streets. A Republican rally has been refused authorisation by the Madrid authorities.
Red and yellow flowers - the colours of Spain's flag - are decorating the route from Congress to the Royal Palace that will be taken by the motorcade and an escort of mounted guards.
Hundreds of Madrid buses will be decorated with Spanish flags and the palace is giving out 100,000 flags for well-wishers to wave as the new king is driven to a reception at the royal palace, a 1738 building used for visits of heads of state and special ceremonies.
Juan Carlos announced his surprise decision to abdicate on June 2, saying he was stepping aside after a four-decade reign to allow for younger royal blood to rally the country that is still trying to shrug off a double-dip recession and a 26 percent jobless rate.
During most of his reign, the monarch was held in high esteem for his role in helping steer the country from military dictatorship to democracy.
He took over the throne in 1975, two days after the death of longtime dictator General Francisco Franco, and then endeared himself to many by making army rebels stand down during an attempted military coup in 1981.
Last night, Juan Carlos (pictured next to his wife Sofia) signed legislation, approved by Parliament earlier this month, setting out the legal framework for the handover
-
The retiring monarch, who underwent a hip replacement last November, used a walking cane and moved with difficulty during the televised signing ceremony