-  2.3.2014
http://www.dailymail.co.uk/tvshowbiz/article-2572154/Lupita-Nyongo-Matthew-McConaughey-celebrate-wins-Governors-Ball-Oscar-winners-finally-let-hair-down.html
http://www.dailymail.co.uk/tvshowbiz/article-2572154/Lupita-Nyongo-Matthew-McConaughey-celebrate-wins-Governors-Ball-Oscar-winners-finally-let-hair-down.html
http://www.independent.ie/woman/celeb-news/awards-season/full-list-of-winners-at-the-86th-academy-awards-30056999.html
The full list of winners for the 86th Annual Academy Awards, hosted by Ellen DeGeneres, is as follows:
Actor in a Leading Role:
Matthew McConaughey
-
Dallas Buyers Club
Actor in a Supporting Role:
Jared Leto
-
Dallas Buyers Club
Actress in a Leading Role:
Cate Blanchett
-
Blue Jasmine
Actress in a Supporting Role:
Lupita Nyong'o
-
12 Years a Slave
Animated Feature Film:
Frozen
- Chris Buck, Jennifer Lee and Peter Del Vecho
Cinematography:
Gravity
- Emmanuel Lubezki
Costume Design:
Catherine Martin
-
The Great Gatsby
Directing: Gravity -
Alfonso Cuarón
Documentary Feature: 20 Feet from Stardom -
Morgan Neville, Gil Friesen and Caitrin Rogers
Documentary Short Subject: The Lady in Number 6: Music Saved My Life - Malcolm Clarke and Nicholas Reed
Film Editing: Gravity -
Alfonso Cuarón and Mark Sanger
Foreign Language Film:
The Great Beauty
- Italy
Makeup and Hairstyling:
Adruitha Lee and Robin Mathews
- Dallas Buyers Club
Music (Original Score):
Gravity
- Steven Price
Music (Original Song):
Let It Go – Frozen;
Music and Lyric by Kristen Anderson-Lopez and Robert Lopez
Best Picture:
12 Years a Slave
- Brad Pitt, Dede Gardner, Jeremy Kleiner, Steve McQueen and Anthony Katagas, Producers
Production Design: The Great Gatsby - Production Design: Catherine Martin; Set Decoration: Beverley Dunn
Short Film (Animated):
Mr. Hublot
- Laurent Witz and Alexandre Espigares
Short Film (Live Action):
Helium
- Anders Walter and Kim Magnusson
Sound Editing: Gravity -
Glenn Freemantle
Sound Mixing: Gravity - Skip Lievsay, Niv Adiri, Christopher Benstead and Chris Munro
Visual Effects: Gravity - Tim Webber, Chris Lawrence, David Shirk and Neil Corbould
Writing (Adapted Screenplay): 12 Years a Slave - Screenplay by John Ridley

Writing (Original Screenplay): Her - Written by Spike Jonze
http://www.independent.ie/woman/celeb-news/awards-season/the-best-birthday-gift-of-all-lupita-nyongo-marks-occasion-with-oscar-win-30056923.html
The best birthday gift of all: Lupita Nyong'o marks occasion with Oscar win

Lupita Nyong'o, best supporting actress winner for her role in
"12 Years a Slave
", speaks on stage at the 86th Academy Awards in Hollywood, California March 2, 2014.
Kenyan rising star Lupita Nyong'o has taken home the Oscar for Best Supporting Actress, beating American Hustle rival Jennifer Lawrence to the accolade.
Nyong'o, 31, won the award for her debut feature film role as gutsy slave Patsy in Steve McQueen's 12 Years a Slave.
The actress was overcome with emotion when her name was announced, burying her head in her hands as her family and co-stars bestowed their congratulations.
Taking to the stage, a tearful Nyong'o paid tribute to the harrowing real life events on which the slavery drama is based:
"Thank you to the academy for this incredible recognition. It doesn't escape me for one moment that so much joy in my life is thanks to so much pain in someone else's.
"Steve McQueen, you charge everything you fashion with a breath of your own spirit. Thank you so much for putting me in this position.
"I'm certain that the dead are standing around you and are watching and are grateful, and so am I.
"Chiewetel (Ejiofor), thank you for your fearfulness and how deeply you went into telling Solomon's story."
Nyong'o continued to thank her family and friends, including her brother Peter who crashed what must be the best selfie in history, taken by Oscars host Ellen DeGeneres earlier in the night.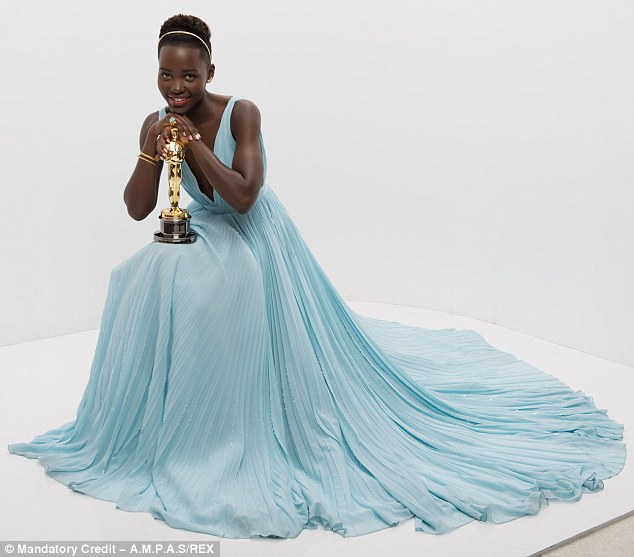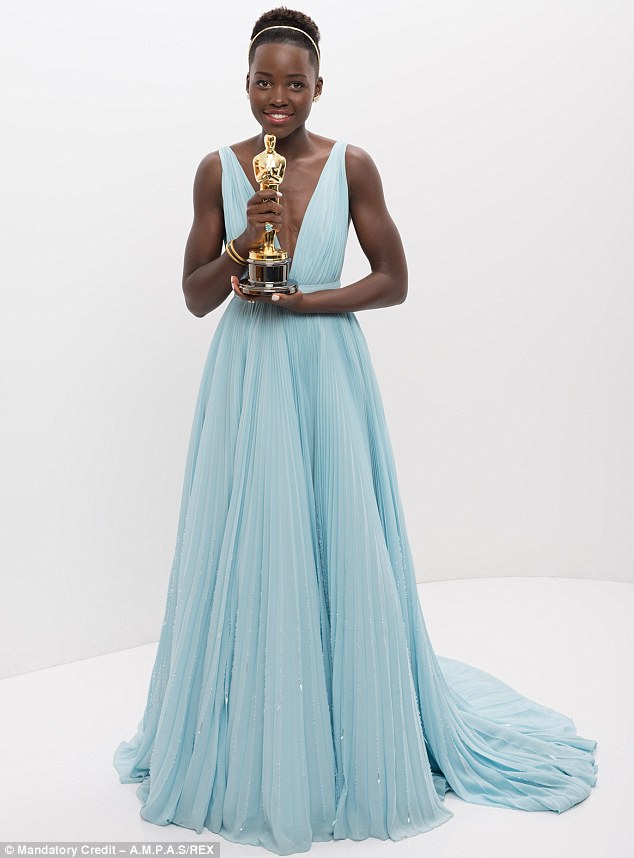 2017