http://www.dailymail.co.uk/home/you/article-2536591/Fashion-amp-beauty-French-women-dont-need-facelifts.html
Fashion & beauty:
Why French women don't need facelifts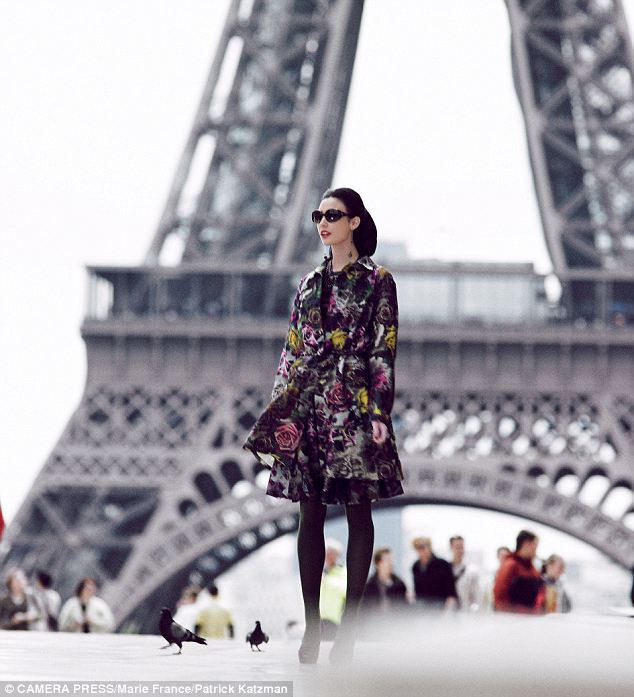 The five secrets of ageing with style and attitude from Mireille Guiliano, bestselling author of French Women Don't Get Fat
'
'French women approach ageing with a different mind-set to women from most cultures'
I may be in my 60s and buy senior-citizen tickets on France's trains, but I still travel fast and I am as happy as I have ever been.
Mireille Guiliano
It's not just grooming or clothing, or nutrition or skincare – it's the attitude of self-acceptance.
In France, a woman in her 40s or 50s is still seen as alluring.
She feels it and acts it, but doesn't pretend that she is still young. She is comfortable and takes care of herself.
A positive attitude adds good years to your life.
Ageing with attitude means making small changes to your mental make-up and physical appearance.
Even if you adopt just some of these ideas in the year ahead you will find yourself in a different and healthier place as you age.
1 STYLE: FOCUS ON HAIR AND SHOES
Style is the manifestation of an attitude, and good shoes and a great haircut go a long way to make you look healthier and more attractive.
People notice your hair first, then your eyes and your smile, and then your footwear.
Your shoes don't have to be expensive – it all comes down to fit and comfort. Just notice the tortured look on your face when wearing ill-fitting heels – not the best way to look radiant.
Take a long look in the mirror and be honest with yourself.
Does the haircut you have chosen go with your face shape? Has your face shape changed with age?
As skin becomes less elastic, an oval face can become rounder or more square. If yours is round, keep the hair around your ears and eyes trimmed.
If your face is long, don't wear your hair straight and past your shoulders, which will drag your face down even further. Your tresses, like your skin, need simple but consistent attention.
As adolescents we can experiment with long hair and pigtails, but after 40 we need to adopt a signature hairstyle, something simple and not so coiffured that it makes people stop and stare.
As for colour, forget aggressive red-oranges or shiny blue-blacks. As we get older, we lose pigment in our skin. Deep, dark hair shades make wrinkles and pale skin stand out. Ditto dark lipstick. A subtle shade is better for our complexions.
MY MONEY'S ON HONEY
If you want to look younger definitely cut your sugar intake and look to honey. It is an antioxidant, kills bacteria, and its history as a medicine is long and distinguished. Its use in skincare and wound dressing are equally impressive and it has a remarkable healing property when applied to sores and burns.
That's why it also makes a great face mask. Just rub a teaspoon or two on your face, leave for ten minutes, then wash it away. It cleanses and its drying properties are an aid against oiliness, pimples and acne, yet it is also moisturising.
2 SKINCARE: PAMPER AND PROTECT
We can't turn back the clock, but we can slow it down. Ask yourself if you need to redouble your efforts by taking care of your skin now rather than seeking to remedy neglect with surgery at some point in the future.
You know the horrors. Stay out of the sun. Reduce your exposure to cigarettes and air pollution, and keep your skin moisturised, especially in cold weather. Poor nutrition, lack of sleep and overindulgence in alcohol are to be avoided. All will show up on your face. And don't go to bed without cleansing properly.
Being French, I believe that every woman should have a 'secret' treatment that provides her with an opportunity to pamper herself and therefore feel more confident. For French women that's often a regular facial.
Face-friendly foods will also give your face a lift through nutrition.
• Spinach is a great source of the antioxidant lutein, which increases elasticity and helps prevent wrinkles by retaining the skin's moisture.
• Oysters can help to banish dark circles under the eyes if they are caused by iron or vitamin B12 deficiencies. Oysters also contain high levels of vitamin E – another warrior against ageing.
• Avocados have great anti-inflammatory properties and can help with skin blemishes.
• Bananas help fight fluid retention and can reduce puffiness around the eyes and face.
• Water is the least expensive anti-ageing potion. It passes essential nutrients through the body, maintains its temperature, removes the body's waste and toxins and retains the skin's moisture balance, keeping it elastic and soft. People have a tendency not to drink enough as they grow older, so drink more!
3 EXERCISE: WALK THE WALK
Most of the French women I know don't like the idea of exercising in a gym.
And yet exercise slows the ageing process.
Ask yourself if your normal daily routine involves 30 to 60 minutes of physical activity, whether that's walking, taking the stairs, practising yoga, swimming or having sex.
Physical activity can improve muscle mass, strength, metabolic rate and the quality of sleep, and it can decrease bad cholesterol, memory lapses and blood pressure.
Need any more convincing?
The French love to walk. And doing so for at least 20 minutes a day is the best 'non-exercise' we can do for our health and fitness – it significantly improves the quality of our lives as we get older.
I walk for at least 40 minutes a day.
4 MAKE-UP: LESS IS MORE
Too much make-up, especially as we age, can make us look worse rather than better. Boldly pencilled eyebrows, too much eyeliner and bright shades are best avoided.
Make-up in the hands of an artist can, of course, do wonders. But here's the irony: when we are young, we can take a lot of make-up but we don't need it; yet when we are older, and feel we need more to accent and cover up, it no longer suits us.
The problem with make-up advice is that the people who give it are often in the business of selling products. Trial and error is the best way to find out what works for you. But I do have one mantra: less is more.
A touch of lipstick, yes. A little eyeliner, sure. A small amount of base and worked-in colour to lift cheeks and eyes, of course. Good make-up cannot turn back the clock but it can make you look your best for your age, appear more rested, more polished and help you feel more attractive and confident.
Heavy foundation and mascara deepen wrinkles and make eyes look older. The more fine lines you have, the more sparingly you need to apply foundation and powder. Too much will accentuate the lines on your face, not conceal them.
Choose a sheer, light liquid foundation or a tinted, luminescent moisturiser. These brighten the skin and give the impression that it is glowing. A little eyeshadow in a neutral colour with some reflective particles helps to brighten the eyes but not overpower them. A little eyeliner applied in thin strokes at the inner corner of the eye helps to counterbalance the inevitable drooping that occurs as time goes by.
Steer clear of the bottom of the eye, however. Eyeliner and mascara on the lower lashes make eyes look smaller. After a few hours it can begin to creep down and settle into fine lines around the eyes, accentuating dark circles.
Rosy cheeks are best reserved for cherubs and children. As we age, applying blush to the apples of our cheeks can draw attention to sagging jowls. No matter what your skin tone, stay away from deep shades and blushers that have a brown or copper base, such as bronzers. They can make the skin look sallow. Instead, opt for a rose or a peach base, which will brighten and illuminate.
And for the lips, it's out with the bold. Dark shades and bright colours are too heavy for thinning lips. This is one case where I don't recommend a good merlot. Instead, pick a neutral rose shade and consider a sheer gloss, which will give you more fullness without overpowering the lips.
5 DIET: THE ART OF RESTRAINT
One of our biggest delusions seems to be that we can keep on eating the way we did when we were young. We can't. So here's my wining and dining history. In my 40s I ate meat no more than twice a week and increased my consumption of fish, fruit and veg. I found I couldn't tolerate wine or champagne with both lunch and dinner, so I waited until dinner to drink and carefully watched my intake.
In my 50s I had to be careful about portion control. There was a time when I could enjoy bread and dessert, but not any longer. The 60s are even less forgiving. My portions are now smaller and I eat more vegetables than ever. I've learnt to say 'no dessert' – albeit with a pang of regret. I can also live without drinking wine for a week or more.
French, Spanish and Italian women have some of the longest life expectancies in the world, in part because of a diet rich in omega-3 fatty acids from fish, antioxidants from fruit and vegetables and monounsaturated fats from olive oil – the Mediterranean diet.
As we grow older, one of our biggest fears is losing our attractiveness, our very presence. The French attitude towards this fear is, 'I see myself in the mirror for what I am, and I will do whatever I can to manage the message I send. I will take care of myself and cultivate an image that is me at my current best and stay engaged in the world.'
Today, when you see Catherine Deneuve, you can't help but go 'wow'. She is a little rounder and not afraid to show her neck, which betrays her age, but she seems to be saying, 'Who cares? I am the whole package, not an ageing neck.' She is an example of ageing well, with style and attitude.
This is an edited extract from French Women Don't Get Facelifts by Mireille Guiliano, which will be published by Transworld on Thursday, price £14.99. To order a copy for £11.99 with free p&p, contact the YOU bookshop on 0844 472 4157 or visit you-bookshop.co.uk.
Read more:
French Women Don't Get Facelifts
Read more: http://www.dailymail.co.uk/home/you/article-2536591/Fashion-amp-beauty-French-women-dont-need-facelifts.html#ixzz2qBACBgMf
Follow us: @MailOnline on Twitter | DailyMail on Facebook