http://www.taylorhendersonofficial.com/bio/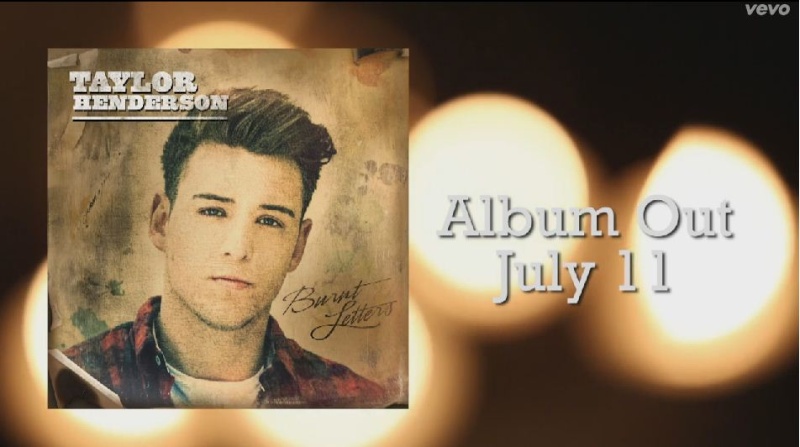 I'm just a kid who came off a TV show, and to a lot of people that's just who I am. It's hard to break away from having that little X on my forehead," says 21-year old Taylor Henderson "Its fine, I get it, and I'm certainly grateful for that time. However,
I'm now moving ahead and finding my way in the world as an adult and as an artist
, and my experiences are changing, and I want my music to reflect that," he says with a steely determination.
Taylor made a name for himself, immediately following The X Factor, with a #1 double-platinum single ('Borrow My Heart', an original) and his self-titled #1 debut album (a collection of predominately cover songs from the TV show). Whilst these achievements were impressive in their own right, it's what he released next which elevated him from being a contestant, to an artist with significant career potential. In early March, Taylor Henderson released his latest single 'When You Were Mine', a beautiful melodic single - co-penned by the young artist - which became an instant hit, racking up a Top 5 single position on the charts and achieving platinum status. It was a taster of things to come; the first song to be lifted from his upcoming debut artist-album. Ears pricked up and heads turned, as audiences did a double-take - Taylor Henderson was making it known he was here for the long haul.
"With that song I was very aware that I didn't want to release a single that was a skeleton of the prior release - I didn't want to release 'Borrow My Heart Pt 2'. 'When You Were Mine' was a slower song, with more of an emotional tug on it and in that sense, I took a risk with it. Despite its success though, if I had sold just two copies of it I would've been happy because it was a single I really wanted to release. The fact that it was a hit was just the incredible icing on the cake. I'm really proud of that song, and I'm now really proud that audiences found a connection to it also."
The single set the tone for the recording of Taylor's upcoming debut studio album BURNT LETTERS. An impressive collection of handsome songs that weave together pop, folk and country styles with an apparent ease, song writing that is unashamedly intimate and tender, whilst the melodies are simple and uncomplicated, unobstructed by studio production. Taylor's earnest delivery is buoyant by way of his easy-going charm, and as a result his grounded honesty comes across as distinctively Australian.
"Sometimes when you hear records, the voice is played down to make room for the production," Taylor explains. "With the songs on this album we wanted to make sure the vocals led the songs, and led the direction; the vocals were the frontrunner, and the studio production was put in place to enhance the overall sound, without taking over.
"There are some songs on the album that were written years ago, and other songs that are fresh, where I've tried new things, but at the core of all the songs is me. It all relates to the person I am, and the artist I am. It's a pure undiluted reflection, and as far as I'm concerned, that's the only way I know how to present myself."
Working with an array of producers and co-writers which include Louis Schoorl (Guy Sebastian, 360, Daniel Johns), John Hume from NZ band Evermore (Matt Corby), Alex Hope (Tina Arena), and Lindsay Rimes (The McClymonts), Taylor's song writing flourished as he relished the collaboration experience.
"Before I started collaborating with others, I was a little weary of the experience. I'd been told to be careful of working with others and not getting credit for my work, and those kind of negative situations. The truth is, through my experiences, collaborating is an incredible way to find new ways to express yourself. It becomes a really charged environment where everyone is working towards the best result. I think the key is that you have to know who you want to work with, and who brings out the best in you."
Whilst his songwriting talent is unquestionably impressive, Taylor is notably not precious about the role. So much so, that when the title track 'Burnt Letters' was brought to him, he knew that it perfectly captured what he wanted to say for the album. "I remember when I first heard the song; I would have loved to have said that I wrote that song, but in this instance I didn't. I just wanted to put my voice on this great song, and I just believe there's something very special about the chemistry of it. I'm amazed at how it speaks for me and thrilled at how I was able to interpret it."
'Burnt Letters' is a pop ballad with a beautiful vulnerability, featuring a hypnotic guitar-line, and emotive vocals from Taylor. "I wanted this album to feel fragile, to feel like it was pulled out of a burning building, so the title of the song 'Burnt Letters' seemed like a good description of what I'm offering up. I wanted the title of the album to capture the raw and brittle sentiment in the songs, and the song itself makes a mirrored-statement about the sound and style of the album."
Elsewhere on the album, listeners will hear one of Taylor's most personal offerings, 'Host Of Angels', which exudes a rawness which significantly showcases Taylor's writing strengths and commitment to his own expression."'Host Of Angels' is a song which I feel a particular affinity towards. It's a song I wrote for my younger sister, and the truth is she's a little torn up about it. She loves it, but it's a very emotional song for her, as well as myself.
"I went through some things as a kid.... My family was together when I was growing up, but my parents are separated now. That happened when was about 13 or 14, and it was something I didn't really understand, and I found it really confusing. My sister is now that age and she's dealing with that situation, and working through it from her understanding. I just wanted to hold her hand through this song, to let her know I'll always be there for her, regardless of what happens in her life."
Whilst the album is predominantly warm and tender-hearted, as can be heard on songs like 'Worth Fighting For', 'Piece By Piece' and 'The Best Part', there are moments where Taylor rears up, as on 'Taking Back', a subdued rhythmic pop song which soars into flight when the chorus takes-off, and on his new single 'Already Gone', a driving slice of pop-country.
"The thing is that if I brought out another love song, I'd be shot," Taylor laughs. "I'm constantly singing about love, and so I just felt I wanted to change it up a bit lyrically with the new single, and I also wanted to pick up the tempo to show off the diversity on the album.
"One of the day-to-day things I deal with is having to be away from home all the time. It's not a natural thing, and it certainly isn't for me. I wanted to write a song about missing home, and missing people who are usually around you, and that's what "Already Gone" is all about."
The album BURNT LETTERS is a consistent collection of material which hones into a particular Taylor Henderson stylistic sound. That Taylor likes the music of Matt Corby, Passenger, Jason Mraz and Ed Sheeran isn't surprising considering together they all share a singer/songwriter sensibility to tell stories with integrity.
"I just want to be honest with music. Sometimes I think I say stupid things or I get awkward on stage, but when I start playing my music I just want people to think to themselves, 'Oh yeah, that's why I'm here, to experience this'. It's not about how many t-shirts I can sell - none of that matters. It's solely about my musical expression and whether people can identify with what I'm singing about."
It's a musical awareness that Taylor picked up from his dad at an early age. "I remember the first time I went to a concert - Dad took me to see James Taylor; young kids don't particularly go to a concert like that, they'd rather sit home and listen to Top 40 music on the radio. For me, the experience was amazing. I really just 'got it'. It brought me in - the storytelling, the balance, the feeling of shared understanding. I knew that's what I wanted to do.
"To this day Dad still writes songs, and he writes about his life," says Taylor of his ex performing-father. "He's lived life and has experience under his belt - he's lived through the best of it, and the worst of it. When you've been there you can tell a story, and so through it all his songwriting has reflected his life, and in that there's true beauty that no one can ever take away from him. All of that has informed the way I write, and the type of artist I want to be. I just want the honesty of simple day-to-day life and experience to resonate throughout my music, and people to recognise our shared experiences in what they hear."