http://www.heraldsun.com.au/entertainment/movies/sugar-and-a-little-bit-of-spice/story-e6frf8r6-1226597006267
Sugar and a little bit of spice
MARY Poppins and her distinctive, parrot-head umbrella cast a very long shadow.
..Just ask Laura Michelle Kelly, the English actress who originated the role in the West End stage musical and reprised it five years later on Broadway.
"She has impeccable manners," says the 32-year-old Brit.
"You hope those good traits will rub off on you, but there are definitely moments in my life where I don't use them - usually when I am tired, jet-lagged, or hormonal."
Elspeth Dickens, the frustrated housewife Kelly plays in the new Australian musical Goddess, is probably closer to the woman she is in real life.
"The fact that she made some bad decisions in the process of her journey is very much like me," says Kelly.
Actor and character part ways, however, when it comes to the domestic arts.
"I can't sew. That's a quality my mother had, which is why I really like that Elspeth has it," says Kelly. "In fact, I am terrible with clothes ... Honestly, I don't have a stylish bone in my body."
The triple-threat admits she's not that handy in the kitchen, either. But it is all more than compensated for on the stage, in projects as diverse as A Tribute To Dirty Dancing and David Mamet's Speed-the-Plow with Kevin Spacey and Jeff Goldblum.
Kelly has played dark characters before - a syphilitic hag in Tim Burton's film adaptation of Sweeney Todd, for instance, and more recently The Second Mrs Tanqueray, for which she was given the thumbs-up from The Guardian's film critic Michael Billington. "Laura Michelle Kelly, last seen as Mary Poppins, banishes any hint of the nursery governess and plays Paula as restless, fiery and seductive," he said of the Victorian with a past.
"It was obviously very well written and directed," says the actress. "But she is depressing and aggressive and angry. It takes a little while to cleanse yourself of that.
"So although I liked the challenge (of playing Mrs Tanqueray), if I could choose, I would pick an inspirational character every time because I would really like to learn those traits."
But while Goddess is ultimately an uplifting story, Dickens wrestles with her own demons along the way.
Stuck in a remote farmhouse with two young sons for long periods of time while her whale-watching husband (Ronan Keating) is at sea, the former singer feels emotionally isolated and professionally thwarted.
Out of desperation, she starts performing her music to a webcam positioned in front of the kitchen sink. Before long she attracts the attention of Magda Szubanski's hard-nosed advertising executive.
Success, however, comes at a personal cost - eventually Dickens is forced to choose between motherhood and the opportunity to follow her dream .
Of herself, Kelly says: "I have been so desperate to meet the right man and have kids that by the time Mr Right comes along, I think I will just be content with that. But women are entitled to aim for a career for themselves."
For the time being, Kelly is focusing on her career - having recently collaborated with Sting on The Last Ship and on Ghost the Musical. Now based in Los Angeles, she recently sold her house in Putney.
"It's a clean state. A new start. I feel freer than ever," says Kelly, who is divorced from choreographer Nick Winston.
http://www.sbs.com.au/films/movie/14679/goddess
Energetic musical sings familiar tune with glee
.
Goddess Review / Peter Galvin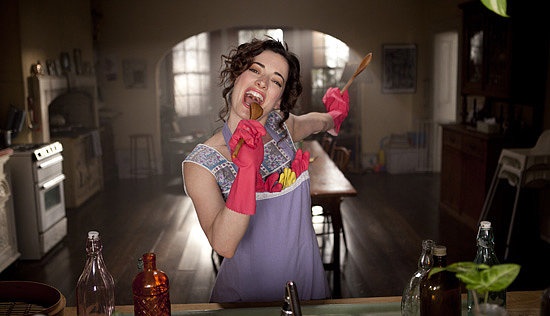 Writer/director Mark Lamprell creates a bouncy, buzzy mood
Goddess opens with a very funny musical joke. Or maybe I should say a joke about musicals.
We are flying over a set of very green hills. There are mountains in the distance. The music swells in a familiar way... A woman, attractive, happy, is racing toward us through a field, arms outreached embracing all this goodness and loveliness – it's all not coincidentally reminiscent of something called The Sound of Music.
I won't ruin the joke for punters by describing the punch line. And that's not out of respect for the inordinate reverence accorded the practice of with holding 'spoilers' from reviews. It's because this Sound of Music parody is one of Goddess' few laugh out loud moments.
Suffice to say that that woman in the opening shot is brought crashing down to earth straight after the opening titles. She is the film's hero. Her name is Elspeth (Laura Michelle Kelly), and before her marriage to James, who here is played by Ronan Keating, she was a successful singer/songwriter. They make their home in Tasmania (hence the green hills) and Elspeth is a mother of rambunctious twin boys. As her life consists of tracking the regular bowel movements of her lads – and keeping them fed, clean and happy, as well as making sure they don't acquire a taste for cow patties – Elspeth barely has the time to scratch out a tune on her battered old upright, which, with crushing significance, does not reside inside the great rambling colonial pile the family call home, but in the barn.
James, who appears to work for an environmentally 'sound' organisation not unlike Greenpeace, spends most of his time underwater watching whales, away from the regular madness that Elspeth must endure.
There is little respite for Elspeth. The local mothers' group hates Elspeth on sight, leaving her feeling suffocated and friendless (though Pia Miranda is cast as one of these bitchy types who turns out to be nice after all, becoming a shoulder to cry on).
All this plot detail is sketched in rather deftly in the film's first 20-minutes or so, which fly by, guided by the expert editing of Mark Warner. Writer/director Mark Lamprell creates a bouncy, buzzy mood and cinematographer Damian E. Wyvill (The Chronicles of Narnia) coats everything in a happy sheen of sparkly highlights, healthy skin tones, and a colour scheme that reminded me of a particularly bright and fatty kid's birthday cake.
Still, it takes a while for the film's major plot gimmick to kick in: Elspeth installs a web-cam in her kitchen right over the sink so she can have 24-hour access to James while he's at sea. The kitchen becomes her 'stage' where she performs a lovely set of numbers intended to bring her absent hubby up to speed with whatever is happening in her head and heart; the lyrics are witty and the tunes have a nice toe-tappy Broadway swing to them.
Elspeth turns out to be a social media hit. A marketing company wants to recruit her 'act' and use it to launch a new digital product designed to appeal to women. So in the great tradition of musicals, Elspeth gets the chance to live the showbiz fantasy. But since she's a very sweet woman, a doting mother, and a loving, faithful wife, the price she has to pay for fame and big bucks is guilt. The marriage has to compromise; James takes more of an on-site fathering role while Elspeth ponders the relative merits of doing nude shots and that special kind of celebrity that murders all sense of reality…
The best stuff in Goddess is the musical comedy. Most of the many songs come from composer/lyricist Joanna Weinberg and were road tested in her original one-woman show called 'Sinksongs'. Weinberg did the film's score – smart, poppy arrangements – with Bryony Marks. The smart, ticklish and relentlessly silly choreography is by Kelley Abbey and Lamprell and the tech team have great fun exploiting ancient film musical clichés for comic effect throughout.
But what gives the film its beguiling drive and energy is the performers. I really liked Hugo Johnstone-Burt who plays a corporate flack who first sees the potential in Elspeth, and then there's Magda Szubanski in a star turn as his boss. She plays a character with the improbable name of Cassandra Wolfe; she comes with a frightening wardrobe to match the moniker, too. Keating is decorous and does the dutiful, troubled
and soulful dad act ably.
But its Broadway and West End star Kelly that dominates. On stage she played Mary Poppins and her Elspeth is a close relative; she doesn't do angst, but she's a genius at expressing ebullience. Kelly is so much fun to be around that it's possible to miss the fact that the script of Goddess is thin and episodic. What keeps the film alive, though, is the fact that its fantasy is so rooted in lived experience; its needy urge to liberate its character's is infectious.
Some reviewers have divined a retrograde anti-feminist 'message' in Elspeth's dilemma, since she seems so queasy to strike out and enjoy fame on its own terms but I think that misses the point. This is a movie musical romance about a married couple. Elspeth's genuine talent reshapes her world. Fame isn't the issue; 'sharing', in the deepest sense of the word, is. Apparently the desire for an equitable marriage that harmoniously balances career and domestic responsibility between spouses is a non-question for some.
And since the film has some truly compelling ideas (and a less than elegant delivery), Goddess presents one of the occasional dilemmas of film criticism where one is faced with a picture that on so many levels just isn't very good… and yet, there's something irresistible about it. Make of that what you will.