tout à fait fab
http://www.canalplus.fr/c-divertissement/pid3349-c-le-grand-journal.html?tab=2
http://www.thesun.co.uk/sol/homepage/showbiz/4082143/Vanessa-Paradis-news-No-sign-of-Johnny-Depp-as-French-singeractress-appears-solo-at-Paris-film-premiere.html
http://www.dailymail.co.uk/tvshowbiz/article-2090927/Vanessa-Paradis-makes-public-appearance-rumours-split-Johnny-Depp-broke.html
Stepping out solo: Vanessa Paradis makes first public appearance at premiere as she lives a 'separate life from Johnny Depp'
By Laura Schreffler
Last updated at 7:42 AM on 24th January 2012
She was expected to attend her latest premiere alone, yet Johnny Depp's absence is further proof he and Vanessa Paradis are living separate lives.
The 39-year-old French actress held her head high as she attended the Parisian premiere of Cafe de Flore.
It was her first public appearance since news broke that she and Depp, her partner of 14 years, had split.
Going it alone: Vanessa Paradis attended the premiere of her film Cafe De Flore alone in Paris tonight
Half smile: The 39-year-old actress' smile doesn't quite reach her eyes
The petite star looked chic in menswear as she hustled down the red carpet.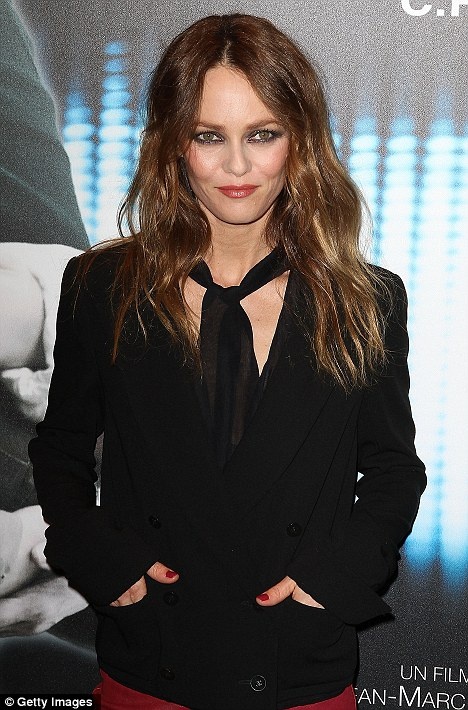 She appears to have lost weight, as normally tight-fitting red leather trousers hung loosely on her diminutive frame.
She added a black tuxedo jacket, four-inch heeled booties and a tie to finish the tough, chic look.
According to People magazine, she breezed down the carpet without speaking to reporters, pausing only to pose with co-star Marin Gerrier and director Jean-Marc Vallee.
However, French TV reporter Christophe Beaugrand says Paradis didn't act any differently than normal.
'She had the air she always does - polite, smiling, saying hello to everyone inside,' he said.
Hello body language!
The French actress appears to be telling people 'Stay away!'
Her date to the event was her sister Alysson while Depp, 48, was 5,000 miles away in Los Angeles.
Paradis, who is the mother of the Pirates of the Caribbean star's two children, Lily-Rose, 12, and Jack, 9, briefly signed autographs outside the UGC Danton theatre before heading to the afterparty at nearby nightclub Chez Castel.
She has hinted at the strains of her relationship crisis while promoting her latest film, in which she plays a single mother.
He's all alone too: Vanessa's partner of 14 years, Johnny Depp, attended the Golden Globe Awards alone this month
The actress, who did not refer to Depp by name, claimed she didn't believe in marriage or soul mates because 'if you lose your soul mate everything is done for'.
She continued: 'Cafe De Flore speaks of love, its joys, its pains and its dramas – to love and to lose. This story upset me, I was upside-down, in the depths of myself.'
She added: 'The idea of a soulmate is beautiful and very romantic to talk about it in a movie or a song, but in reality, I find it scary.'
He has been going it alone lately as well, attending the Golden Globe Awards earlier this month by himself.
Read more: http://www.dailymail.co.uk/tvshowbiz/article-2090927/Vanessa-Paradis-makes-public-appearance-rumours-split-Johnny-Depp-broke.html#ixzz1kMYbAPCH
http://www.zimbio.com/pictures/WXTJ8apl4HB/Cafe+De+Flore+Paris+Premiere/5vhVkaDsBBs/Vanessa+Paradis
http://www.public.fr/News/Photos/Photos-Vanessa-Paradis-premiere-apparition-publique-depuis-les-rumeurs-de-separation-d-avec-Johnny-Depp-182259
Première apparition publique de Vanessa !
Vanessa Paradis : première apparition publique depuis les rumeu...[ Toutes ses news ]Dernières photos
Pour assurer la promotion du film Café de Flore, Vanessa Paradis était hier à Paris, mais encore une fois sans Johnny Depp…
.Depuis les rumeurs de séparation de son couple, Vanessa Paradis n'avait pas encore fait d'apparition publique.
Hier, lundi 23 janvier, pour les besoins de la promotion du film
Café de Flore
dont elle tient le rôle principal,
l'actrice s'est rendue à la première du film à Paris, à l'UGC Danton.
Si vous espériez voir son chéri Johnny Depp, ne rêvez pas ! Comme par hasard il n'était pas là…C'est donc en solo que Vanessa a du arpenter le tapis rouge. Heureusement sa petite sœur Alysson était là pour la soutenir !
Mais même loin de son pirate de chéri ou d'ex-chéri, Vanessa est resplendissante ! Pantalon de cuir rouge, veste de costume noire…
Elle a tout juste côté look et pour cette première apparition publique elle n'a rien laissé paraitre de sa vie personnelle. Toujours professionnelle, elle s'est montrée très disponible pour les fans présents.
Quant à Johnny Depp il serait resté à Los Angeles . Ça ne sent vraiment pas bon cette histoire