groupe Anglais révélé par Xfactor anglais
Liam Payne, Harry Styles, Zayn Malik, Louis Tomlinson et Niall Horan.
http://jadoreonedirection.tumblr.com/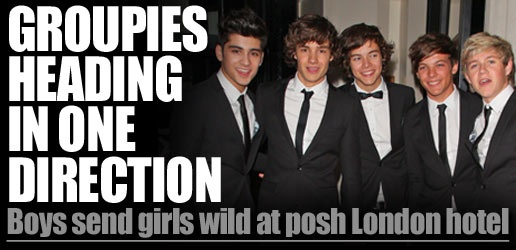 http://www.thesun.co.uk/sol/homepage/showbiz/bizarre/297421/Bizarre-Showbiz-news-Keep-up-to-date-with-celeb-goss.html
RONAN Keating has really piled the pressure on One Direction.
The Boyzone star said: "They have a great machine behind them and are going to be superstars. They are going to be the biggest band this country has seen, although maybe not as big as Take That."
Make your mind up.
http://www.thesun.co.uk/sol/homepage/showbiz/3791208/Harrys-One-Direction-out-of-ghost-train.html
http://www.thesun.co.uk/sol/homepage/showbiz/3792644/Groupies-are-heading-in-One-Direction.html
One Direction are gearing up for the release of debut single What Makes You Beautiful.
The boyband, who shot to fame on last year's X Factor, are certain to top the charts when the record is released in September after notching up the biggest number of pre-orders in their label Sony Records' history.
SIMON Cowell
will soon need to hire the Army to keep One Direction fans at bay.
HARRY Styles gets a fright on a ghost train during funfair themed photo shoot for book
Get to bed by One (Direction)Boys head in One Direction: A partyTwits not allowed Cowell numberThe band, who have yet to release a single, are sending teen girls into a frenzy wherever they go and Thursday was no different.
Niall, Liam, Louis, Zayn and Harry attended a charity auction at London's Savoy Hotel. But groupies caused chaos when they started to sneak into the posh event, also attended by X Factor boss Simon and Leona Lewis (pictured below).
Security had to scour all the hotel's floors to smoke out the scallywags.
The girls were then dragged back outside to wait behind barriers until the boys came out.
A source said: "It was crazy. The Savoy is a really expensive hotel and they were all trying to sneak in."
Wagner would scare them off in a heartbeat...
https://www.youtube.com/watch?feature=player_embedded&v=QJO3ROT-A4E