http://www.gettyimages.fr/Search/Search.aspx?contractUrl=2&language=fr&family=editorial&assetType=image&p=albert+monaco#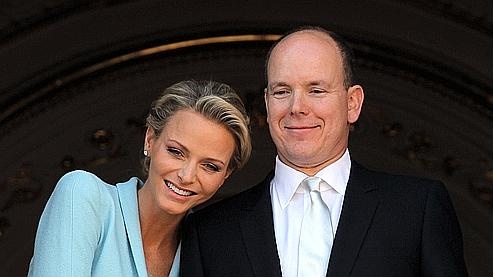 http://www.gettyimages.fr/Search/Search.aspx?contractUrl=2&language=fr&family=editorial&assetType=image&p=albert+monaco#2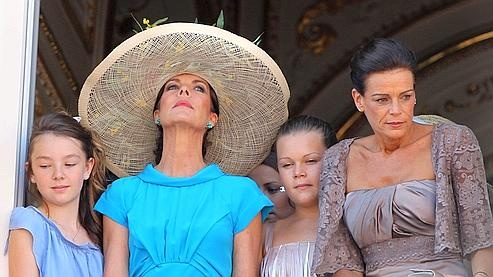 http://www.purepeople.com/article/mariage-d-albert-de-monaco-et-charlene-a-table-avec-alain-ducasse_a82905/1
http://www.gala.fr/l_actu/on_ne_parle_que_de_ca/mariage_civil_a_monaco_une_belle_fete_de_famille_235207
On ne parle que de ça | Mariage civil à Monaco:
une belle fête de famille
Tous les proches du prince réunis autour du couple marié
Albert II et Charlène sont mariés. La cérémonie civile, presque trop rapide, a permis à toute la famille de s'unir dans cet événement heureux célébré dans le souvenir du mariage du Prince Rainier et de la princesse Grace.
Un bref passage au balcon, un baiser furtif, mais une superbe photo de famille. Albert II et Charlène, officiellement mariés, se sont dit «oui» dans la salle du Trône du Palais princier devant le président du Conseil d'Etat Philippe Narmino. La désormais princesse a dit oui en premier suivi par le Prince Albert II qui lui a embrassé la main. Les spectateurs présents devant le palais qui suivaient la cérémonie sur grand écran ont pu acclamer les jeunes époux.
--------------------------------------------------------------------------------
Une formalité? Bien au contraire, la cérémonie s'est déroulée dans le souvenir du Prince Rainier et de la Princesse Grace, qui avaient prononcé les mêmes vœux, en 1956, dans la même salle. Les mariés ont ensuite signé les registres officiels sur la table qui a également servi au couple monégasque mythique, parent du prince. Ils ont ensuite été accueillis par la fanfare des carabiniers qui a joué un hymne destiné à la nouvelle princesse. L'heureux couple a ensuite posé au balcon pour saluer son peuple et en a profité pour échanger un baiser.
--------------------------------------------------------------------------------
Ce que l'on retiendra de cette cérémonie à laquelle ont assisté 80 personnes, c'est la jolie photo de famille qu'elle a occasionnée. Les princesses Stéphanie et Caroline entourées de leurs enfants se sont également montrés au balcon. Ainsi que les témoins, Chris Le Vine, le neveu de la princesse Grace et donc le cousin germain d'Albert et Donatella Knecht de Massy, l'épouse de Sébastien Knecht, le petit-fils de la princesse Antoinette.
--------------------------------------------------------------------------------
I do! Prince Albert finally marries Charlene in civil ceremony at Monaco's royal palace
Catholic Church service will take place tomorrow
Guests to include Nicolas Sarkozy, Roger Moore, Naomi Campell and Karl Lagerfeld
Prince Albert's lawyer denies Charlene Wittstock had passport confiscated at Nice airport during last-minute attempt to leave principality
By Peter Allen
Last updated at 6:49 PM on 1st July 2011
A former
Olympic swimmer from South Africa
was officially declared Princess Charlene of Monaco today following her marriage to Prince Albert.
Dressed in a sky-blue jacket and skirt, 33-year-old Charlene Wittstock smiled radiantly as she said 'I do' in a civil ceremony in the Royal Palace throne room of the ancient Mediterranean principality.
Her new husband, 53-year-old Albert, looked on proudly in a dark suit and grey tie as he put sensational rumours about his personal life behind him.
Sealed with a kiss: Prince Albert and his bride Princess Charlene kiss on the palace balcony after their civil wedding service in Monaco this evening
The French press even compared the nuptials to Britain's Royal Wedding – while lamenting the fact that the Duke and Duchess of Cambridge had sadly had to decline their invitation to Monte Carlo because they were on an official trip to Canada.
Less respectful Gallic commentators were, meanwhile, suggesting that history's first Princess Charlene might not have the same ring to it as Catherine, Duchess of Cambridge.
Miss Wittstock had, in the words of Le Monde, '
tried to escape'
last week –
back home to South Africa after learning that Albert may have fathered a third love child.As the mystery deepened, Albert's two love children and their mothers stayed away from today's 40 minute ceremony at the Royal Palace.
Happy couple: The newly-married couple wave to crowds that gathered below the balcony of the royal palace
Sister act: Princess Alexandra of Hanover, Princess Caroline of Hanover, Pauline Ducruet and Princess Stephanie of Monaco enjoy the cheers of the crowds
Marriage: Prince Albert of Monaco and Charlene Wittstock are seen on a giant screen outside the palace during the civil ceremony
Scandal: The preparations have been dogged by claims that Prince Albert had fathered a third love child
They are also expected to be absent from the Catholic Church ceremony tomorrow.
Instead French President Nicolas Sarkozy is set to join celebrity guests including James Bond star Roger Moore, former supermodel Naomi Campbell, and veteran fashion designers Karl Lagerfeld and Giorgio Armani.
Organisers of the £55million celebrations surrounding the wedding – which included a concert by The Eagles last night – hope that it will rival the 1956 wedding of Albert's mother, Hollywood star Grace Kelly, and his father, Prince Rainier.
Philippe Narmino, president of Monaco's Council of State, officiated today, and confirmed that the former Miss Wittstock was now officially a Princess.
Before the 5pm ceremony, Mr Narmino said: 'It's the event of my life. Me, who as a magistrate, has dealt with hundreds of divorce dossiers during 27 years, will be marrying a couple for the first time.'
Show of unity: Charlene Wittstock and Prince Albert II of Monaco attend a concert by The Eagles at Louis II Stadium last night
Prince Albert kept a firm hold of his bride-to-be's hand after rumours swirled that she had tried to 'flee'
The couple pose with members of The Eagles, who are performing in Monaco to celebrate their wedding
French musician and composer Jean Michel Jarre performs during a general rehearsal in Monaco, last night. Jarre will perform at a concert on the couple's wedding day
Referring to the Paris news magazine which broke the story about Charlene's attempted flight, and which still stands by it, Albert's lawyer Thierry Lacoste said: 'I heard everything about the child – white, black, who has been born, not yet born - it has to stop, it's I don't know what.'
He said: 'There is no child, it's a totally false rumour and absolutely without foundation. It's easy to do your job as a journalist – to check that Charlene did not go to the airport. It's clearly false, she and the prince were around all last week.'
In fact a senior detective from Monaco, who was involved in the later stages of the 'incident' at Nice airport, has confirmed that 'Charlene had her passport confiscated so that the Prince's entourage could persuade her to stay'.
Prince Albert will marry his girlfriend in this room during a civil ceremony today
Film crews, caterers and wedding organisers take part in preparations underway at Monaco's palace inner courtyard
Prince Albert has two love children - including Alexandre - pictured with his mother Nicole Coste
Albert already has two children - six-year-old Alexandre, the son of Nicole Coste, a former Air France air hostess from Togo, and Jazmin, 19, whose mother is Tamara Rotola, an American estate agent.
Miss Coste was spotted in Monaco earlier this week, but was said to have been advised to stay away from the wedding to avoid 'media exposure'.
Mr Lacoste infamously issued fierce denials before DNA tests proved Albert was the father of Alexandre and Tamara.
Despite his strong denial this time around, Mr Lacoste confirmed that he was taking no action against L'Express.
And Christophe Barbier, editor of L'Express and a close friend of French First Lady Carla Bruni-Sarkozy, said the magazine had no intention of removing the story from its website, saying: 'We stand by our information which was supplied by three different sources.'
Mr Barbier said it was important to give Charlene's attempted return home publicity because of the 'number of crowned heads and representatives of various states that are expected at the marriage'.
Despite such enthusiastic predictions, the guest list for the wedding – which had been shrouded in secrecy until today - revealed that many senior royals who had been expected to attend were not in fact coming.
French chef Alain Ducasse at work in the kitchen at the Hotel de Paris in Monaco where he will prepare the wedding dinner for the couple and their guests tomorrow
Caterers wheel in fresh fruits and vegetables for the lavish nuptials
In bloom: A worker decorates the law court with a Monaco national flag and flowers
Miss Wittstock, who was born in Zimbabwe and moved to South Africa as a child, met Albert during a 2000 swimming competition in Monaco.
He has been an International Olympic Committee member since 1985 and competed in five Winter Olympics as part of Monaco's bobsled team.
Read more: http://www.dailymail.co.uk/news/article-2010331/Monaco-Royal-Wedding-Prince-Albert-Charlene-Wittstock-marry.html#ixzz1QsXoPtEC