Cooper - Meaning of Cooper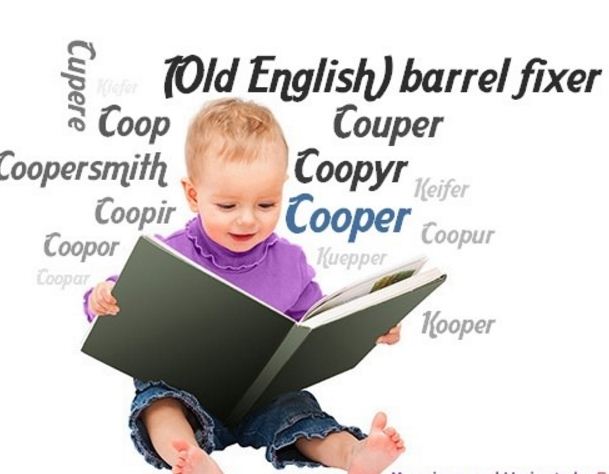 What does Cooper mean?
Pronounce
Cooper
[ 2 syll. coo-per, co-op-er ] The baby boy name Cooper is also used as a girl name, but it is much more common for boys. It is pronounced as KUW-P-er †. Cooper
is an English name of Old English origin.
The name is of the meaning cooper, barrel maker, barrel fixer.
It is from the element 'cupa' which means barrel, tub.
The first name is derived from the surname, which is itself from the job title for someone who makes or fixes barrels.
Cooper has 12 variants that are used in English and other languages.
Variants used in English include Coopar, Coopersmith, Coopir, Coopor, Coopur, Coopyr, Couper, Cupere, Kooper, and Kuepper.
The contraction Coop is another English variant.
A variant of Cooper in other languages is Keifer (German).
See also the related form, Kiefer (Hebrew and English).
Cooper is popular as a baby name for boys, and it is also viewed as fairly trendy. The name's popularity has been growing since the 1980s.
Its usage peaked modestly in 2015 with 0.258% of baby boys being given the name Cooper.
Its ranking then was #77. Among all boy names in its group, Cooper was the most frequently used in 2015.
Cooper has in the past century been predominantly given to baby boys.